Welcome to Cater Freeze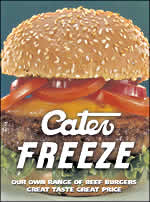 Caterfreeze is the leading independent supplier of frozen food in East Anglia . Being on our customers doorstep means we can offer a fast, friendly and efficient service. And as a family company we understand whats important to our customers and keep in touch with your needs.
Its never been harder to make a success in catering, but we can make sure you have the best possible chance, by offering the right products, at the right prices reliably time after time.
Cater Freeze offers:
Fast friendly service.
Carefully chosen products from leading brands and local suppliers.
Competitive transparent pricing.